| | |
| --- | --- |
| XTC Reel by Real: XTC: Transistor Blast: The Best of the BBC Sessions | |
| | |
| --- | --- |
| Last update: 2 February 2013 | |
---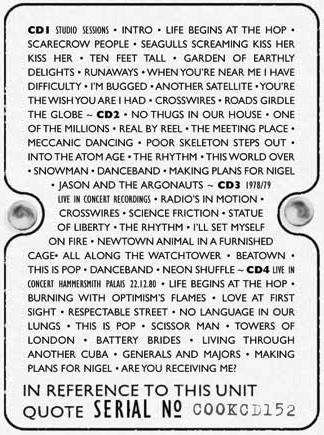 [From the Cooking Vinyl press release]
Fifty tracks and nearly three and a quarter hours later, Transistor Blast is a boxed compilation extraordinaire. These four CD's of the best material recorded by XTC for the BBC over the past three decades leave you speechless marvelling at the sheer talent and class of this cult combo.
From their debut release in 1977, the 3D E.P., XTC have grown into one of the music industry's most revered and respected groups of musicians. Flirtations with the charts have been numerous if spasmodic, but over two decades Swindon's XTC have generated a lifetime's work of great pop tunes as highlighted by Transistor Blast.
Disc 1 and 2 are from various sessions recorded at the BBC Maida Vale Studios for the John Peel, Andy Kershaw and Kid Jensen (remember him?) shows. XTC's Colin Moulding (bassist/ vocalist/ songwriter) says about these sessions:
"Most of it is a blur to me now but the evidence on tape suggests these are spirited versions of the songs often surpassing their album originals, Life Begins At The Hop for instance played in a better temperament here, it's colliding guitar threesome is always a favourite with me. I like to think the little bits that turn me on in music turn other people on as well perhaps the low guitar registers on Roads Girdle The Globe played on the new boys' Fender Stratocaster (a man's guitar I was reliably informed). We knew the originals were in the bag and here was a chance to have some fun but the cry was always "I wish I'd have done that on the album" referring to some guitar lick or other that had previously escaped discovery."
Disc 3 is a hybrid made up of two separate performances, the first Sound & Sound in-concert simulcast on BBC 2 TV on 9 March 1978 and an in-concert recorded at The Paris Theatre on 17 January 1979. Disc 4 is the highlights from a concert at the Hammersmith Palais recorded on 22 December 1980. When reflecting about the BBC in-concerts XTC mastermind Andy Partridge (guitarist/ vocalist/ songwriter) says:
"Yes, this twenty years younger me, did sing with a P.A. busting seal bark. Yes, his songs were streams of mod au go go gibberish. And yes, his guitar playing did sound like Robby the robot strimming the shelves clean at Debenhams crockery department. But finally, and this is my revelation, I forgive him. He no longer embarrasses me. Neither him nor his skinny group of clockwork agent orange flavoured cohorts in musical crime. Hearing these sessions made me guffaw out loud at early XTC's friendly fire. The epileptic kick boxer bursts of Colin and Terry's rhythm section. Barry's gothic Liberace piano style, or his truly dangerous organ playing. Electrician from Edwards' funfair attempts to mend damaged saturnian dishwasher motor."
Two decades of high-quality songwriting by Partridge and Moulding created such classic songs as Making Plans For Nigel, Statue Of Liberty, Snowman, Life Begins At The Hop, Jason And The Argonauts, Dance Band and Scarecrow People -- all featured here, sounding as amazing and fresh as ever.
In case you're unsure about what this thing is that XTC create is, let me refer you to one of their songs: This Is Pop.
---
Lyrics, Charts and More
CD 1 (Studio Sessions):
Opening Speech
CD 2 (Studio Sessions):
The Rhythm
CD 3 (1978/1979 Live In Concert Recordings):
Radio's in Motion (1978)
Crosswires (1978)
Science Friction (1979)
Statue of Liberty (1978)
The Rhythm (1979)
I'll Set Myself on Fire (1978)
All Along the Watchtower (1978)
Beatown (1979)
This is Pop (1978)
Danceband (1978)
Neon Shuffle (1978)
CD 4 (Live In Concert Hammersmith Palais 22.12.80):
---
Recording Information
Studio Sessions recorded at BBC Studios, 1977-1989.
Originally released on 16 November 1998 in the U.K.
Parts of CDs 1 and 2 were previously released on Drums and Wireless: BBC Radio Sessions 77-89 on 5 October 1994 in the U.K. CD 4 previously released as BBC Radio 1 Live in Concert in November 1992 in the U.K.
Colin Moulding - Bass and vocals
Andy Partridge - Guitar and vocals
Barry Andrews - Piano, organ and vocals up to early 79
Dave Gregory - Guitar, keyboards and vocals from early 79 onwards
Terry Chambers - Drums up to late 82
Live tracks [CD 3: 1,2,4,6,7,8,10,11,12] recorded 9 March 1978 at The Hippodrome, Golders Green, London, for Sight & Sound in Concert.
Produced by Jeff Griffin for the BBC.
Andy: ". . . a very confident group who have been polishing bright these songs every night for the previous year. The arrangements are perversely tight but delivered with a mischief and cocksure choreography that comes from many hours of battle condition hardening. . . XTC were young then, we came from the great rock 'n' roll Swindon and enjoyed getting right up peoples noses, we didn't know what the hell we were doing, but we did it loud."
Live tracks [CD 3: 3,5,9] recorded 17 January 1979 at Paris Theatre, London, for In Concert.
Produced by Chris Lycett for the BBC.
Andy: "Ten months of non stop touring had left its mark. I wasn't getting on with Barry, he felt, rightly so, that I was squashing his input or control over the group, and boy were we exhausted. . . I felt we just weren't playing as fiercely, or with such fire. Tempers were at the end of their tethers and energy reserves were on nil. This was, sadly, Barry's last gig with us. The final twitch of the early XTC chrysalis."
Live tracks [CD 4] recorded 22 December 1980 at Hammersmith Palais, London, for In Concert.
Produced by Jeff Griffin for the BBC.
---
Singles
Selections from the Box Set Transistor Blast


(U.S.A. promo only)
---
Art
| | | |
| --- | --- | --- |
| front cover of the Transistor Blast box | CD 1 of Transistor Blast | CD 2 of Transistor Blast |
| CD 3 of Transistor Blast | CD 4 of Transistor Blast | magazine advertisement for Transistor Blast |
| poster for Transistor Blast and WXRT | What Do You Call That Noise? promo sampler cover art | What Do You Call That Noise? promo sampler backside |
---
Go back to XTC Reel by Real.

9 January 2016 / Feedback