| | |
| --- | --- |
| XTC Reel by Real: XTC: Oranges & Lemons | |
| | |
| --- | --- |
| Last update: 12 November 2017 | |
---
XTC — Oranges and Lemons LP
Journey now to the 'garden of earthly delights,' where the 'Mayor of Simpleton,' elected 'King for a day,' screams, "'Here comes president Kill again!'" 'The loving' Mayor opens the coach door and the 'poor skeleton steps out.' He greets 'one of the milions' of his adoring subjects. One of the 'Scarecrow People' raises his hand to the almighty Mayor and decrees, "I may be 'merely a man,' but my music shall last after these 'cynical days!' It will jump with leaps and bounds 'across this antheap.' I shall rid the world of boring and mindless music!" A young child, upon hearing such promises, shrieks, "'Hold me my daddy!'" Suddenly a giant rubber ball falls from blue sky, a huge 'pink thing,' glowing like a 'miniature sun!!' All the land was bestowed with the glowing warmth of music! New music! This land of 'chalkhills and children' became abundant with trees sprouting ripe, plump oranges and lemons, all because of the brilliance shone from one bright source -- the XTC of life itself!!! This is no tall tale. Listen for yourself.
The Contemporary Music Dept. — Remember, variety is the spice of life!
Warner Bros. Records.
---
Geffen Records, XTC, Oranges and Lemons
Street Date: February 28, 1989
Two Record Set, One Cassette and CD
How does Andy Partridge, one of rock's most fascinating interviews and a member of one of modern music's most intriguing bands, describe XTC's ninth album, Oranges and Lemons? By talking about colors and nursery rhymes.
"We always think in terms of a color for each album. The last one, Skylarking, had a pastoral, paisley feel. This album is more aggressive. The songs are up and positive. I'm a pretty optimistic person myself, sometimes aggressively so... like jolly sandpaper. This album has a 1,000-watt bulb where there used to be a 40-watt. It's fluorescent. Definitely bright colors."
Those colors inspired the title, as did an English nursery rhyme little known in America also called "Oranges and Lemons."
"The more we looked at the songs the more they seemed like nursery rhymes themselves," he suggests "that's what we're peddling really. Today's pop tunes are the nursery rhymes of the future."
But make no mistake about it, the eloquent Partridge takes these nursery rhymes very seriously indeed. The 15 selections on the two-record Oranges and Lemons, ranging from hard pop to jazz, ooze with gentle satire and tender feelings but also take bites out of subjects such as politics.
"If the whole world's going to listen for an hour, you've got a soapbox. You don't pass it up. Say what you want to say. The songs are about us and how we feel, about money, sex, our own failings. Though we do disguise them a bit because it's difficult to be stark naked. We put on the occasional fig leaf."
XTC found itself in the midst of a controversy in 1987 when it took on the subject of a Supreme Being. "Dear God" became the bands biggest hit in America, yet Partridge almost wishes the song hadn't been included on the Skylarking album -- not because of the brouhaha it caused but because it was too ambiguous, it wasn't blunt enough.
"I was surprised that anyone could get so upset. The idea that religion is about people wanting power and using adult fairy tales to keep other people in line is age-old. As far as I'm concerned, if there is a God, he or she or it has nothing to do with religion. If it upset people, it serves them right for listening. What bothered me was that some people thought the song meant I believed in God.
"It should've been more poisonous. But it's tricky being honest. You have to dress it up so people can take it in and swallow it. You have to coat it in sugar and make it bite size. The problem is that to do it in three and a half minutes you have to edit out a lot of bones. You take it down from dinosaur bones to chicken bones and hope one sticks in their throats."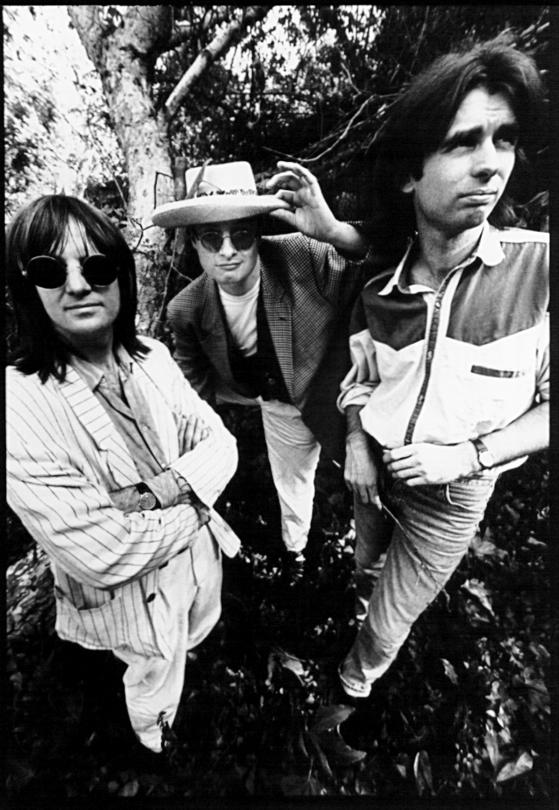 XTC has been a unique band right from its start forged in the industrial town on Swindon in north Wiltshire, England, where it's still based today. The original foursome of Partridge on guitar and vocals, Colin Moulding on bass, Barry Andrews on keyboards, and Terry Chambers on drums, burst onto the London scene in 1977, during the height of the punk explosion. But these urban rebels quickly carved their own niche, impressing both critics and audiences with their humor, sharp intelligence, and vitality as well as their innovative rhythms and melodic twists. In 1978, two cult status albums, White Music and Go 2, were released, though not in the States.
In 1979, Andrews left and was replaced by fellow Wiltshire native and guitarist Dave Gregory. Later that year, XTC released its breakthrough album, Drums and Wines, which includes its first English Top 20 hit, "Making Plans for Nigel," and laid the foundation for success in the U.S. The next album Black Sea (1980), charted in the American Top 50.
Major changes, however, were in the offing. Following the release of English Settlement in 1982 -- which included the U.K. hit "Senses Working Overtime" -- four years of grueling tours (from Venezuela to Japan to New Zealand and all points in between) came to a screeching halt. While on stage in Paris, Partridge collapsed. Shortly after, XTC stopped touring for good.
"I think the top of the iceberg is stage fright," he explains. "I'm not a physical person. I'm wimp stuff. It got crushing and wound me up nervously. I was losing pounds. But the mass underneath is malcontentment in reproducing the music when it's not satisfying to do so. You don't see the audience when you're on stage and they became more and more remote as we moved from small clubs to big halls. I believe in the songs but I wasn't doing them justice with me screaming on stage."
His solution is the envy of many bands. "I do the songs as best as they can be done in the studio. It changed the music for the better. Our music was black and white until then. Suddenly it became multi-colored."
That's not to say, however, that song writing and recording is an easy process for Partridge, either.
"When I'm under pressure, like making an album, and my brain is working hard, I have a lot of trouble sleeping. My brain doesn't turn off at night. I wake up screaming. It's Wolfman behavior. I go howling and scratching at myself. I don't know what I'm doing. A few years ago I might've been put in Bedlam for it but it's an actual medical condition. It's scared a few producers to death, that I can tell you. It's white hair inducing if you're in the same room when it happens. Those who have shared a hotel room with me call the creature Billy Bolis."
With the band studio bound, Chambers soon exited for Australia, reducing it to a three-piece, and XTC left Epic Records for Geffen Records. Mummer (1983), acoustic-based as was the double-album English Settlement, then gave way to the harder, bluesier The Big Express.
1985 saw the debut, on another label, of the band's psychedelic alter egos, The Dukes of Stratosphear, a retro-cool parody of eccentric '60's pop on 25 O'Clock. The Dukes returned in 1987 with the once more critically acclaimed Psonic Psunspot.
Between those two homages came Skylarking (1986) and its unlikely hit. In fact, the album's first single was "Grass." But when college and alternative radio DJs turned to the B-side, they discovered "Dear God." Breaking down pre-conceived notions of what a pop song should be about or sound like has helped make XTC the truly unique band it is.
"In England some still us as a punk art rock group. But our personalities have changed. We're a billion miles away from that now. We're all my favorite groups that ever were. I'm the mincing machine. Some of our music is placid, some borders on heavy metal, some is out and out pop. Calling it any one thing is lumping all furniture under Furniture. We make one or two under each style. We were quirky in 1977 but not anymore. Only people who haven't really listened to us might think that."
Still, Partridge thought Skylarking would be labelled Weirdo Pop and sell a few copies here and there in England and America. Instead, it was a certified hit in both places.
The results brightened the bands mood considerably and the trio was anxious to begin recording its next album. The answers to questions about a producer, a drummer, and where to record Oranges and Lemons were all unexpected and pleasant surprises.
The producer is the unheralded Paul Fox. "Paul was a gamble," Partridge admits. "We didn't know anything about him except he had done some Yes mixes and worked with Boy George. But we met and got on. He bothered to come down and see us and we didn't have to grovel at some huge corporation. He had a beer and a sandwich. He was a regular person."
As per usual since 1982, the band also enlisted a new drummer specifically for the project. This time it was Pat Mastelotto of the Los Angeles band Mr. Mister.
"Each time we use a new drummer it's a great injection of their personality. Pat got us to play our old material and he knew the drum patterns beat for beat. We were quite knocked out. In a strange way, he's the nearest of the drummers we've had to Terry Chambers. Both strike the drums very hard. Pat's also one of the happiest individuals I've ever met. He's ludicrously enthusiastic and that infected all of us.
Perhaps as too did the recording locale. For the first time, XTC recorded in Los Angeles.
"I'm sure something must've seeped through. If it was done in rainy old England, maybe it would've been less orange and slightly muddier."
There's a touching childlike quality to the album, both melodies and words, and that's no coincidence. The births of two children, the now 3 year old Holly and 1 year old Harry, have unquestionably had a great effect on Partridge.
"The songs stopped being about me in disguised lyrical form and now are about my children in disguised lyrical form. The songs are me talking to them, leaving them entertainment, or sending messages."
His children also help explain the numerous references on the album to the classic movie musical The Wizard of Oz.
"It's well known in our house. We played it twice a day because my daughter was in love with it. It's so open, and wonderful. And when we started to think about it, we realized that the three of us in the band were the Tin Man (Gregory), the Cowardly Lion (Partridge), and the Scarecrow (Moulding). Our personalities are so much like those characters -- what we want, the way we behave, our physical appearances even. It's frighteningly us."
For the members of XTC, heart and courage and sense of "there's no place like home" is all part of their colorful trip down the yellow brick road of rock n' roll.
---
Andy Partridge Talks About Oranges and Lemons
Andy Partridge recently talked about XTC's ninth official album and fourth on Geffen Records, Oranges and Lemons, a two-record set produced by Paul Fox and recorded in Los Angeles during the summer of 1988.
"Garden of Earthly Delights"

"Here I'm introducing children to the world: 'This is your playpen. Enjoy the place. Come and be responsible and do great things in life.' It's very optimistic and hopeful and a nice fanfare to open the album with."

"The Mayor of Simpleton"

"This started out as a reggae thing, sad and forlorn. Then I scrapped that and rewrote it and hit on this chiming, droning musical figure. It fitted better the lyrical idea that you don't need vast academics to be a feeling individual. Emotion is worth more than bits of paper."

"King For a Day"

"This is one of the three songs Colin (Moulding) wrote. All of them are rather down and dark but put to jolly music, which makes them even more poignant. The song's about ass-licking and making a fool of yourself just to get fame and riches and success. The song's a commando knife, dark and cutting. That's a guess at what it's about but I have seen the files and photographed them with my bow-tie camera so it's an educated guess."

"Here Comes President Kil [sic] Again"

"When I walk the dog, I get ideas, and the pace I walk determines the tempo of the song. This one's like people chanting a nursery rhyme. As for the lyrics, well, I didn't vote. I feel it doesn't do anything because the people you vote for climbed up the ladder like in 'King For A Day.' When you vote, you hand over power to them and so then they can kill in your name. It becomes ironic that the scum rises to the top and your vote keeps them floating up there. You vote one out and get in another."

"The Loving"

"My first idea was if 'the loving' was a product in a box that you could buy. But it got watered down and the lyrics grew. Now it simply says that you need to give it and get it. We made the music grand and large to underscore that this means everybody. It's 'all you need is love' in another form."

"Poor Skeleton Steps Out"

"It's a silly idea that the last ethnic group to be liberated are skeletons. They're unfailing in their support of human beings but have to wait until we die to achieve their freedom. In the song, the skeleton gets a night out."

"One of the Millions"

"Colin here pinpointed who want to do things than they are capable of doing. So they fall back into the ordinary, everyday things. Ties to the mundane are so strong. You have great designs in life but they don't amount to anything. Home and hearth are too comfortable."

"Scarecrow People"

"This is my favorite song on the album. Humans are the most deadly, uncaring, devious and destructive creatures on the planet. So I invented a Scarecrow Land and the aliens from there fly in and want to know how we make war and mess things up because humans are so brilliant at it. They admire all the bad things we do and are as dead as we are from the neck up. It's a world-turned-upside-down song. There's an American folk flavor to it also. We had a big sheet of paper tacked to the wall of the studio that said 'needs sense of Idaho'."

"Merely a Man"

"Someone at the record company in England asked me to write a banal hit single. I said, 'Right. I'll show them.' It was a challenge. So I wrote some sexist nonsense. But it wasn't me. I was lying. And I scrapped it. But I liked the riff and the title. I rewrote it in a very boastful way about not following leaders, certainly religious ones. They're only people. The most anyone can offer you is love."

"Cynical Days"

"This concludes Colin's cynical trip. And it's his darkest one, his moment of pain. The world is getting him down and he doesn't want it to. It's blunt and honest. Frankly, I wish I'd written it."

"Across This Antheap"

"This song's been around for awhile. It started out bluesy and swampy but the music didn't fit the lyrics. It's a list song, listing what humans do. There's a relentlessness about it, of people swarming everywhere."

"Hold Me My Daddy"

"Most boys/men can't talk to their fathers or show affection. It's not what we're supposed to do. It's okay to say 'Love you, mom' but it's taboo to say, or at least it's not easy, to say it to your dad. I played it for my father and he wondered what the hell it was about. It was a bit touchy. Maybe he was embarrassed. It was a very difficult song to write."

"Pink Thing"

"It's either about a penis or a son. Whatever you hear first, that's what it's about. The penis idea is obvious. The son part might not be. But you can interpret the song as a father talking to his son about girls. The titele comes from the fact that my wife and I used to call our first child 'the pink thing.'"

"Miniature Sun"

"The first half goes up--a love song, how great it is. What great things the sun does for life. Then something happens in the middle. He's been rejected. And the other half is all down. He's upset and angry. And the sun is cruel. As far as I'm concerned, this song didn't come out Mel Torme enough."

"Chalk Hills [sic] and Children"

"This is largely about my rejection of the rock 'n' roll lifestyle. I'm mundane. I like to gravitate toward the kids, privateness. I'm not into fame at all. When I get a slightly swelled head, it's nice to be punctured and drift down to earth and become stable again. Show business is really a dream and not what life's about. Life's about the glorious everyday. It's not really me when I'm treated like a famous person. This is real-life. Earth-colored."
---
Lyrics, Charts and More
The 2015 reissue includes the following bonus tracks:
---
Recording Information
Produced by Paul Fox and XTC.
Engineered by Ed Thacker.
Assisted by Joel Fiorello, Tim Weidner and Clark Germain.
Recorded at Ocean Way, Los Angeles.
Originally released on 27 February 1989 in the U.K.
2001 stereo re-master by Ian Cooper at Metropolis Mastering.
New stereo edition mixed and produced by Steven Wilson from the original multi-track tapes.
5.1 Surround Sound and 2015 stereo editions mixed and produced by Steven Wilson from the original multi-track tapes.
Released on 30 October 2015 in the U.K.
Pat Mastelotto - drums (traps and buttons)
Mark Isham - horns (heavenly honking)
Paul Fox - keyboards (extra ivory embellishments)
Reached No. 28 on the U.K. album chart.
Reached No. 1 on the Billboard college / alternative album chart in the U.S.A. in 1989.
Reached No. 44 on the Billboard "Top 100" chart in the U.S.A. on 22 April 1989.
Reached No. 27 on the U.K. Indie Albums chart (2015 reissue)
Andy: "Strip it down, build it up, here comes the dragster, polished and chrome, it's big, it's long and supercharged with song. She's hard and she's fast, eats future and shits past. Fifteen songs, a fluorescent feast, you'd better be hungry!"
Andy: "Oranges and Lemons is all about the compact craftings of the psychedelic single. Dedicated to all the bands who made my school days so very purple."
Working titles for this album included Songs of Sixpence and Frown Turned Upside Down.
---
Singles
---
Art
| | | |
| --- | --- | --- |
| Oranges & Lemons cover art | back cover of the Oranges & Lemons CD | back cover of the booket from the Geffen USA Oranges & Lemons CD |
| front cover of the Geffen USA Oranges & Lemons CD with sticker | the J-card from the Geffen USA Oranges & Lemons cassette | Geffen USA cassette of Oranges & Lemons |
| Geffen USA Oranges & Lemons advance promotional cassette J-card | Geffen Oranges and Lemons promo cassette | cover of Oranges & Lemons cassette from the Philippines |
| Geffen USA Oranges & Lemons longbox | J-card from Oranges & Lemons cassette from the Philippines | Colin Moulding from Oranges & Lemons |
| Dave Gregory from Oranges & Lemons | Dave Gregory, Oranges & Lemons promo photo | Oranges & Lemons promo poster |
| an ad for Oranges & Lemons | autographed Oranges & Lemons | a reproduction of the cover of Oranges & Lemons, by lordwindowlicker |
| in-store displays, Record World, June 29, 1989 | in-store displays, Record World, June 29, 1989 | in-store displays, Record World, June 29, 1989 |
| "The Road to Oranges & Lemons", "A Brief History of XTC", or "The XTC Puppet Show", promotional video, 1989 | a platinum record for Oranges & Lemons! | autographed Oranges & Lemons T-shirt |
| Geffen promotional Oranges & Lemons trading card | Oranges & Lemons tee-shirt | promotional fold-up cube for Oranges & Lemons |
| promotional fold-up cube for Oranges & Lemons | Oranges & Lemons album flat reverse | Another Oranges & Lemons T-shirt |
| promotional Oranges & Lemons baseball cap from Geffen Records USA | a promo pack of 1989 Geffen "baseball cards" | front of a promotional "baseball card" for XTC: Oranges & Lemons |
| back of a promotional "baseball card" for XTC: Oranges & Lemons | front of a promotional "baseball card" for The Dukes of Stratosphear: Chips From the Chocolate Fireball | back of a promotional "baseball card" for The Dukes of Stratosphear: Chips From the Chocolate Fireball |
| a 1965 radio advertisement poster by Milton Glaser | | [THIS SPACE INTENTIONALLY LEFT BLANK] |
---
Go back to XTC Reel by Real.

12 November 2017 / Feedback