| | |
| --- | --- |
| XTC Reel by Real: XTC: Mummer | |
| | |
| --- | --- |
| Last update: 21 September 2013 | |
---
Mummer?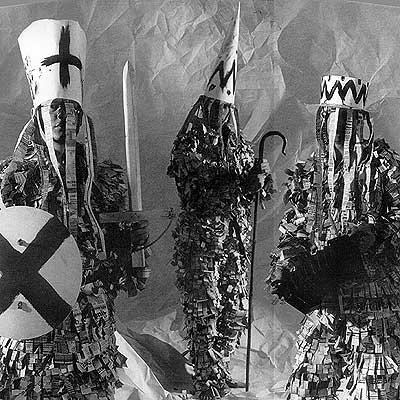 "In comes I," explains Andy Partridge, principal songwriter / singer and outspoken wit of XTC, is a line frequently used in the mummer plays that take place around Christmas time in rural England. The ancient tradition has the players -- the townsfolk -- dress in suits of rags and tatters [and newspapers] and follow a basic script having to do with cycles of death and rebirth. Just an ordinary folks' entertainment in the days before telly, which is why traditions like mummers are now rapidly dying out.

Disguise is important to the mummers, says Partridge, and recognition would "spoil the magic. If somebody said, 'Ere!'" (Partridge's Wiltshire accent, full of "errs" and an unpronounceable way of saying "ou," broadens, flattens and widens to become a perfect Monty Pythonesque yokel.) "'You're Fred the Baker!' he'd have to go home in tears 'cause he'd been recognized. It's an ordinary people's show business. They don't go on stages to do it; they do it in the street or they knock on your door and come in your house and do it."

Disguise is also important to Mummer, the album. This is a band in a business devoted to pushing yourself in front of other people and demanding attention, but XTC has no enthusiasm whatever for the task. They try to keep their sense of normalcy and reality by planting themselves in their surroundings to keep the sentiments true, but disguising the facts with metaphors to keep people from getting too close. "None of us are really into hey-notice-me," says Partridge. "We'd all like to be rich and obscure."

Musician, June 1984
---
MUMMER
Says Partridge, "Until early 1982, our work was like black-and-white TV. Mummer was the first in full color -- bright sky blue." Mummer was the band's first album on Geffen Records in the U.S. and its sixth album overall, following the release of the similarly acoustic-based English Settlement, a double album, in 1982 which included the U.K. hit "Senses Working Overtime".
Geffen CD Release 1991 includes six tracks not on original album: "Frost Circus", the fear-of-love-and-swimming-pools "Jump", Toyland-gone-berserk "Toys", the hopeful "Gold", "Procession Towards Learning Land" and "Desert Island", a paean to Great Britain (all written by Partridge).
[Geffen promotional literature, 1991]
Andy: "Five years of solid touring 'wigs out' yours truly and the band comes off the road. The result was a record built in troubled times. Is he dead? Will they split? Have they lost it? The answer was no, no and no. Try a spoonful, out of the sour came forth the sweet."
Andy: "I feel like a 30-year old musical vandal. I can do what the hell I want and I don't have to answer for anything."
---
Lyrics, Charts and More
CD reissues also include bonus tracks:
---
Recording Information
Recorded at The Manor, Oxfordshire, England, and Genetic Studios, winter 1982.
Mixed at AIR Studios, London, England, January 1983.
Produced and mixed by Steve Nye/XTC.
* Re-mixed by Alex Sadkin and Phil Thornalley / XTC at RAK Studios, London.
+ Recorded and mixed at Odyssey Studios, London. Produced by Bob Sargeant. Engineered by Mark Dearnley.
Assistant engineers, tape-jockeys, tea makers, gophers, etc., Jim Russell, Howard Gray, Gavin Greenaway, Marcellus Frank, Mike Nocito.
Originally released on 30 August 1983 in the U.K.
Reached No. 51 on the U.K. album chart.
Reached No. 145 on the Billboard album chart in the U.S.A. on 10 March 1984.
Voices and instruments by Andy Partridge, Colin Moulding, Dave Gregory.
With Peter Phipps / drums
Terry Chambers / drums on "Beating of Hearts" and "Wonderland"
Steve Nye / mini-korg on "Wonderland", mellotron on "Elements"
Gavin Wright and Nigel Warren-Green / strings on "Great Fire"
Special thanks to Hans the wind for De Vente
Pete Phipps: "Really happy days...memorably filled with sweat, tears and huge amounts of laughter!"
Some of the working titles were Fallen from The Garden and Fruit.
---
Singles
| | | |
| --- | --- | --- |
| | | |
| (U.S.A. promo sampler) | | [THIS SPACE INTENTIONALLY LEFT BLANK] |
---
Art
| | | |
| --- | --- | --- |
| back cover of the Mummer LP | back cover of the Virgin UK Mummer CD | the Japanese Mummer LP |
| cover of the Geffen USA cassette of Mummer | back cover of the Geffen USA cassette of Mummer | photo from Mummer inner sleeve |
| Mummer promo photo | Colin Moulding, Mummer promo photo | 1983 promotional band photo |
| XTC out of their Mummer suits, Musician, June 1984 | Happy Mummer Day! | |
---
Go back to XTC Reel by Real.

9 January 2016 / Feedback