It's Nearly XTC
I've loved XTC for many years, and faithfully bought every CD without auditioning it - any music made by Messurs Partridge and Moulding was enough of a mark of quality for me. However, over the last couple of years, it seems Andy has gone a bit crazy with the releases since they've been released from Virgin.
Fuzzy Warbles, his demo collection series, is a fine idea. I enjoyed those releases, mostly because I love hearing demos, unreleased ideas, snippets, etc. I thought releasing demo collections of Apple Venus and Wasp Star was even OK. I was even OK with instrumental re-packaging of those two albums, even though I only bought one of them.
But now, Andy & Colin have released AV and WS together
again
, only as a special 4 CD box set (the two original albums, housed with the demo collections of each album). I could ignore this triple-dipping very easily, if it weren't for the inclusion of a
download
(yes, a download, not even a real CD!) of 2 new tracks. You can only get them if you buy the box.
This is the first new material we've heard from them in years, and they obviously know that true die-hard XTC fans will pony up the dough to purchase albums that they've already bought 3 times for the delight of hearing 2 measly songs. This bugs me.
I know Andy and Co. got royally screwed over the Virgin deal (and continue to be!), but that doesn't warrant this kind of fan abuse. It's not the fans fault they didn't get their financial due, so why are they treating us like we have to make up the slack? What's even more puzzling is the recent find of BOTH songs on the internet: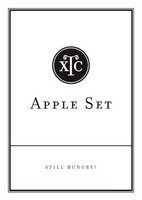 XTC - Spiral
XTC - Say It
from Apple Box
"Spiral" seems catchy enough, but there's something hollow about this song - it reminds me of a band trying really hard to sound like XTC. I'm not really convinced of Andy's love of his 45 collection...rhyming "vinyl" with "spinal" is a bit silly. Normally I don't mind silly lyrics, but I've been spoiled by Andy in the past. The production is also uninspiring; does he really like that fake flute patch?
One thing that's extremely noticable here is the lack of Dave Gregory's guitar work; Dave's subtle touches and consumate musicianship really gave XTC their bite. Andy is a fine guitarist, but he doesn't love the instrument the way Dave does and you can hear the difference on songs like this.
However, Colin's song "Say It" fares better, lyrically and musically steeping in his trademark deadpan British delivery. Only he can do this kind of soft-shoe pop music and get away with it.
So I'm torn, happy that I didn't have to pay to hear "Spiral", but also "Say It" restores my faith in purchasing the new CD (whenever the hell it's coming out) without hearing it first.
ETA: The link to the Toolshed download has been removed for now, because they didn't think I should link to "Spiral" and have an unfavorable opinion of it. Thanks for the friendly advice, I'll just refrain from linking to you at all.