A Testimonial Dinner
The Songs of XTC
---

Subj:  Andy Partridge on "Testimonial"       95-10-07 17:17:31 EDT
From:  Thirsty e

We went straight to the horse's mouth to get Andy Partridge's thoughts and comments on the forthcoming XTC tribute album "A Testimonial Dinner." So we sent him a few questions in the mail. Here's what he had to say:
Notes on A Testimonial Dinner by Andy Partridge

Re: "Surprised by XTC's influence"

Yes, because we just started out emulating our heroes with no initial 'big plan' other than having fun (with a guitar hanging around your neck) and the whole thing just grew into this vast delightful cake. I have a feeling we may get to return the compliment one day if/when some of these artists get a tribute album built around them , we'll help, pass the brick and mortar.

Re: "Sarah McLachlan's 'Dear God'"

I think its better than the original, much more spooky. A great marriage between her voice and haunted arrangement. We should have done it like this. Paganism never sounded so good. Verve Pipe's "Wake Up" hits 11 out of 10 on the spunk-o-meter. Ruben Blades versions of "The Man Who Sailed Around His Soul" really makes my spine tingle, which is quite a feat as I haven't owned one for the last thirteen years! And what Terry and the Lovemen did to "The Good Things" brought a lump to my trousers.

Re: "Terry and the Lovemen"

Are a group of fellows from Wiltshire and one from Liverpool, who are besotted with XTC. They just seem to take the band's career as a template to live by, (sounds unhealthy to me!) You've got to admit they do a pretty good job on the "sounds-alike" scale. Their singer does a passable Colin and even manages to sound not unlike Dave and Andy in other places (weird). With dedication to duty like this, how could David Yazbek have refused them a place on the album. I hear they took their name from an ad in Japan for our album "Black Sea." (The Japanese) jumped the gun and advertised it under the name of one of our "in" jokes at the time, which was calling the record "Terry and the Lovemen."

Re: "Future Plans"

At the moment our career is held in the fridge while we undergo protracted legal wranglings to get of our Virgin/EMI deals. We have enough material in store to make future albums, but can't do anything with it. When we get sorted, the next album's going to be a killer.

Re: "Other Comments"

If you pick me, I'll find a cure for cancer, help starving record company executives, teach third world children to sing (in perfect harmony), dispense love, affection and diet drinks to all single parents, beat the meat import restrictions, get drunk with the pope and wear this beautiful crown, on my last surviving tooth, day and night.

BYE, ANDY

P.S. I'd also like to meet all the bits they cut off of Michael Jackson. I hear they made a nice guy.
**"A Testimonial Dinner: The Songs of XTC" will be released on October 17, 1995 by Thirsty Ear Recordings.***
[Thanks to Jim Zittel]
---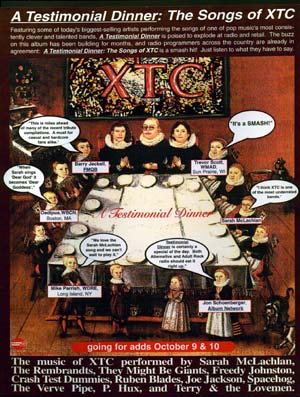 A Testimonial Dinner - The Songs Of XTC, first released in the US in 1995, and previously only available on import over here, is now finally on general release in Europe. It's a taster for XTC novices to discover one of the most important bands of recent time and a reminder for hard-core fans of XTC's great musical output. XTC signed to Cooking Vinyl last year, and before the release of original new material by the band there is this exciting album of cover versions.
The music of XTC has influenced an enormous number of musicians working in a wide variety of styles and this album brings together some of them. These artists are die-hard XTC fans whose long-time love of the band has fuelled their participation in the project - a tribute in the truest sense of the word. For the included artists, XTC's work has been continuing proof that inspired musical and lyrical exploration is alive and well. None of them just like XTC - they've developed a hunger for the nourishing music XTC have been making for almost twenty years.
With artists ranging from the fantastic Sarah McLachlan to the Crash Test Dummies, not only is this album diverse, but it's also nourishing too.
[Cooking Vinyl press release, 1995]
---
Lyrics, Charts and More
Freedy Johnston: Earn Enough for Us
Spacehog: Senses Working Overtime
Crash Test Dummies: All You Pretty Girls
The Verve Pipe: Wake Up
The Rembrandts: Making Plans for Nigel
Sarah McLachlan: Dear God
Ruben Blades: The Man Who Sailed Around His Soul
P. Hux: Another Satellite
They Might Be Giants: 25 O'Clock
Terry & the Lovemen: The Good Things
Joe Jackson: Statue of Liberty
---
Art
| | | |
| --- | --- | --- |
| Testimonial Dinner cover obverse | autographed back insert of A Testimonial Dinner | one-sheet promo for A Testimonial Dinner |
| Testimonial Dinner cover reverse | promotional cassette for The Music of XTC: A Testimonial Dinner | Australian a promotional 'entree' sampler |
| Australian a promotional 'entree' sampler backside | | |
---
Go back to Chalkhills Merchandise.

9 January 2016 / Feedback