Co-written by one of the most popular -- and usually reclusive -- cult bands of all times, XTC. Timed to coincide with the release of their new album.
"Much of what this book will reveal has been unsaid or hidden. But now journalist, magazine editor, and friend, Neville Farmer, intends to wheedle it out. Knowing how he can write and we can talk, people are in for an Ancient Babylonian feast of a book."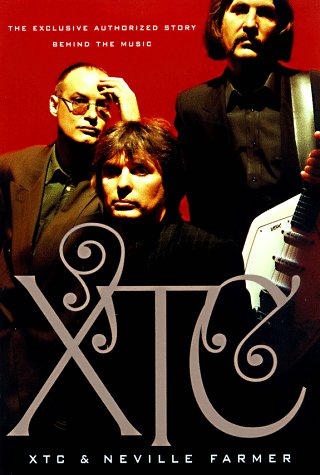 XTC's Andy Partridge, Colin Moulding, and Dave Gregory have remained willfully out of the limelight -- until now. XTC: The Exclusive Authorized Story behind the Music provides all the information fans have waited decades for! The book follows the musical and personal evolution of XTC album by album, beginning with the band's founding back in the early seventies in Swindon, an English industrial town that is still the band's home. Each chapter is a breakdown of all XTC's songs, what the lyrics mean, how the melodies were created, and what happened in the studio. Throw in dozens of photographs and memorabilia from the the band's own archives, add the release of a long-awaited new album simultaneously with the book's publication, and what you get is an electric best seller.
XTC's last three albums sold over 1.5 million copies. A few of their many classic singles include "Dear God," "Peter Pumpkinhead," Wrapped in Grey," and "Making Plans for Nigel."
Neville Farmer has been the managing editor of several UK music magazines and a consultant for movies like The Commitments and Back Beat.
0-7868-8338-3 (13.45) $13.95 Music
51/2 x 81/2 304pp. Over 35 black-and-white photos throughout ($18.95 in Canada)
U.S., Canada, Philippines, Open Market
Publishing History: Hyperion Original
1-900924-03-X £12.00 August
UK, Europe
Publisher: Helter Skelter
4-89176-422-8 ¥3500
Japan
Translated by Shigemasa Fujimoto
Reviews are available.