Expand Your Musical Horizons!
Getting the rest of the Utilikilts Co. to contribute to this newsletter is sometimes like trying to pull out the back molars of a freaked out polar bear. However, practice makes perfect, and this month, in honor of Spring, new columns are popping up all over. It is my great pleasure to introduce the music man - our web-master, George.
Chips from the Chocolate Fireball
The Dukes of Stratosphear
Once there was a band called XTC, you may have heard of them as they became quite popular on college radio in the US during the 80's and had even more wide spread success in other parts of the world. XTC's music was great, if a bit somber, and it was obvious they had selected their influences well with hints of the Beatles and the Beach Boys surfacing in many of their songs. It seems however that even the stiff upper lips of a thoroughly British band like XTC can start to quiver and with little warning be transformed into a rather unexpected grin.
This brings me to The Dukes of Stratosphear, a set of alter egos created by the members of XTC to allow them to free themselves from the rather serious constraints of their albums like Skylarking and to indulge their dreams of being part of the 60's psychedelic scene. The Dukes released two collections of music, 1985's 25 O'clock EP and the full length Psonic Psunspot released in 1987. 25 O'clock harkened back to the heavy hitting psychedelia of bands like the Electric Prunes while Psonic Psunspot was a bit lighter and even more fanciful. Neither, however, ever ventured into the realm of parody, these were albums meant to celebrate the music that inspired them, created for the sheer joy of making music that has been filtered through the fun house mirrors of radical times and radical chemical intake.
Of course musical tributes have the tendency to be rather sappy and pretentious, but The Dukes avoided this by becoming who they claimed to be. The members of XTC extracted themselves from the 80's and created their music as The Dukes of Stratosphear completely immersed in the 60's, luckily they brought the technology of the 80's back with them. This allowed them to use technologies and techniques not available to their heroes, and they used them very effectively, so in many ways The Dukes managed to surpass the musical legends they had learned so much from. This of course means that their two releases kicked some serious ass.
Luckily for all of us 25 O'clock and Psonic Psunspot were combined into the single CD Chips from the Chocolate Fireball which was released in 2002. So if you would like to relive, or possibly experience for the first time, what psychedelic music in the 60's sounded like, or possibly would have sounded like had 80's technology been available, find this album and be prepared to be taken away to a land of talking puffins and splendid queen buns.
| | |
| --- | --- |
| George | |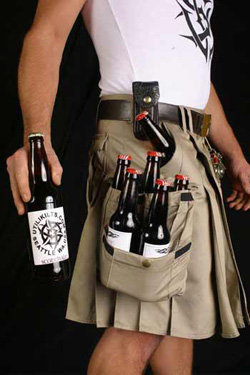 The Survival Kilt
Call us to see what's available now. Survival reminder - limited stock in discontinued fabric available (sage & tan) call to check availablity and to get your's before they are all gone! Survival new - some stock available (tan, basil, black available soon). Call to see what we have.